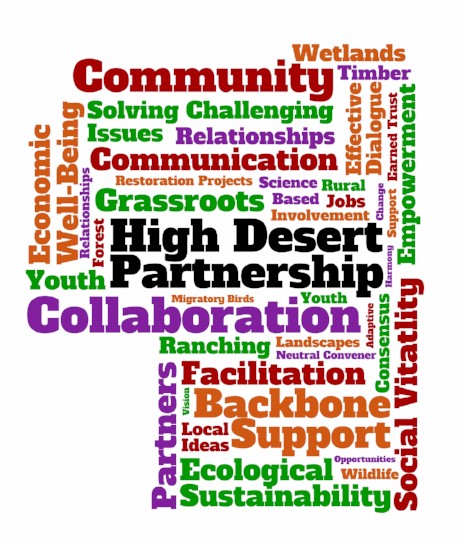 The High Desert Partnership's mission is to enhance the ecological sustainability, economic well-being and social vitality of our communities by using a collaborative decision-making process with all interested stakeholders to solve challenging issues. Learn more and get involved.
Our aim is to restore forest land while encouraging stewardship and improving the economic viability of our community.
Take a look.

Harney Basin Wetlands Initiative

This collaborative is working to address two major issues currently threatening migratory birds in the Pacific Flyway.
Read More.

Our newest initiative aimed at improving and expanding the experiences our youth have in our rural community.
Learn what we do.
Jimmy Tobias, Pacific Standard Magazine on 11/30/2016

Months after the Bundy insurrection rocked Harney County, Oregon, a group of local residents is trying to heal the community and overcome the American West's long history of land-use conflict. Their secret: Bring cowboys and conservationists together.

Posted on 11/15/2016

This fall partners from the Harney County Restoration Collaborative and Harney Basin Wetlands Initiative worked together for two days to eradicate carp from the tributaries of Malheur Lake. Click on the link above to read more about the experience.

Posted on 10/20/2016

Our board members are always improving themselves, which improves our organization. Board member Kathy Rementeria recently completed a three day course that will bring more knowledge and insight to our organization.