A Great Wonder of the West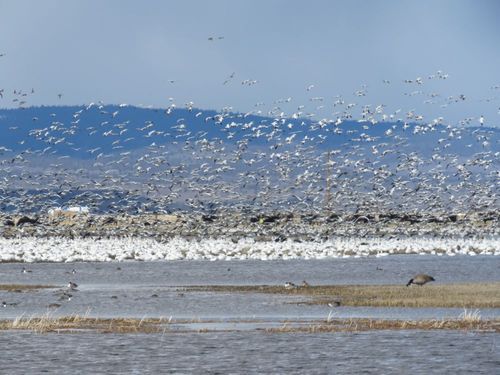 The Harney Basin is one of the great wonders of the west. Millions of birds use the Harney Basin as a rest stop on their migratory journey, both northbound and southbound on what is called the Pacific Flyway. They land here, rest and refuel using both the lands and water of the basin including the Malheur National Wildlife Refuge and private lands. For waterfowl, the Harney Basin is like a central airport hub stopover. The opportunity for birds to rest and refuel here makes it possible for them to reach their breeding grounds in good physical condition, keeping their populations robust and resilient.
A Wild, Working Landscape
Outside of the refuge, private ranch lands provide critical support for this important bird migration. Traditional flood irrigation practices that spread shallow water across the Harney Basin's hay meadows every spring create ideal conditions for migrating birds. These private working lands are one of the cornerstones of Harney County, supporting families and feeding our local economy. Landowners share and manage a wild, working landscape that sustains both people and wildlife.
But the Basin is Under Stress
Malheur Lake, the largest freshwater marsh in the west has been plagued with an over-population of invasive common carp. These non-native fish feed on and uproot the aquatic plants that once made Malheur Lake an immensely productive freshwater marsh for birds and other wildlife. Adding to the decline of aquatic vegetation, powerful persistent winds make it difficult for aquatic plants to re-root or grow in the lake because the muddy water keeps sunlight from reaching them. And the problems are not just in the lake. Crumbling infrastructure and other forms of irrigation are making it increasingly difficult to sustain the traditional method of forage production through wild flood irrigation.
Yet There is Hope
The Harney Basin Wetlands Collaborative is focused on improving aquatic health and maintaining wet meadow habitats throughout the watersheds for Harney and Malheur Lakes and the streams and rivers that flow into them. The collaborative effort includes conducting research that will help guide decisions toward restoring Malheur Lake. It's also supporting landowners as they make infrastructure changes like upgrading their water management systems and adding and/or moving fencing to impact when and where their cattle graze.
High Desert Partnership's Role
Like all our collaborative working groups, HDP supports activities, promotes open communication, and keeps the wheels of progress moving forward so HBWC can do its work. To find out how to get involved with HBWC, contact High Desert Partnership at 541-573-7820 or info@highdesertpartnership.org.
Harney Basin Wetlands Collaborative Strategic Action Plan >>