Brenda Smith, High Desert Partnership Executive Director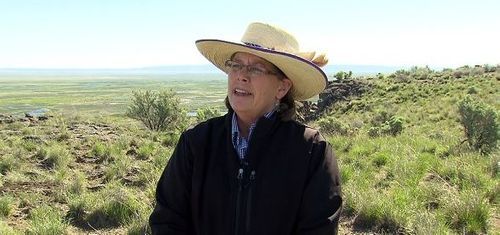 Like so many of us, Brenda Smith wears a lot of hats. She's High Desert Partnership's (HDP) Executive Director and Harney County Chamber of Commerce 2019 Woman of the Year. She's a weed scientist, daughter, sister, aunt, friend, mom to her three pups Monte, Tell and Hefe and mom to a human cowboy Austin who works at the ZX Ranch near Paisley, OR. She's a flower grower, gardener, serves on the board of the Harney County Watershed Council and wrangler to the six staff and eleven board members that make up HDP. Yeah, Brenda keeps incredibly busy and is passionate about her adopted home Harney County.
Brenda moved to Harney County with her son Austin in 2008. "Harney County has always been on my radar as far back as a teenager when my sister and I traveled through Harney County from Nevada to Prairie City to work with our horse trainers who had moved to the Oxbow Ranch. [Harney County] feels the most like home than anywhere I have ever lived. When I arrived in 2008, I took a position with the Eastern Oregon Agricultural Research Center to work on an extensive project for managing invasive annual grasses on range lands across 5 states. When that position ended I knew I wanted to stay in Harney County, I took another short term position to help coordinate a conservation  innovation grant that had an invasive annual grass management component for our rangelands and the opportunity with HDP became available shortly after that. I worked both positions full time for about 2 years."
Brenda grew up in Carson City, Nevada where her dad started and still operates a roofing business. You could say Brenda is a 'horsey girl'. Her earliest memories were asking for a horse and by age 12 that dream came true. She showed her quarter horse Hondo Lark until she went to college. Hondo came to her as a 2 year old and was a part of the family until he passed at 28.
Brenda's extensive college years started at University of California, Davis. Originally thinking she wanted to be a veterinarian her studies shifted when she started taking agriculture classes. Those classes lead to a summer job at Monsanto. "What an introduction to agriculture of all kinds of crops and agriculture in the central valley of California.  It was my supervisor at Monsanto who encouraged me to apply for a Masters program at California State University at Fresno where I got a M.S in integrated pest management—taking a lot of classes on insect pests and diseases of plants as well as weed control. One thing led to another and I was applying for Ph.D. programs and chose Oklahoma State University as at the time they had a very large weed science program. My graduate work was on understanding weed-crop competition and the crop I studied was cotton. Honestly, the education I pursued happened because I was following my love of plants. I really enjoy learning anything about the natural world."
"The nice thing about my degree in weed science is that it is a field of study that crosses many disciplines, there are weeds in the forest, range lands, aquatic weeds, landscape and  crop production. I am kind of a generalist, I know a little bit about a lot of things. My position at HDP is probably one of the first times this has been a huge benefit to me. I also have learned with weed management that ultimately the people side of managing weeds is more important than the tools we have to manage weeds. This is where I really began to think the people side of some of our complex problems in natural resources needed a lot of attention."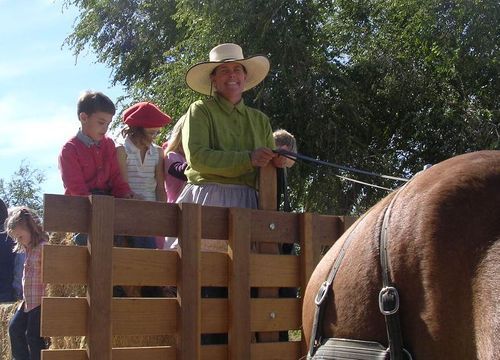 But, prior to Brenda's life in Harney County and her role with High Desert Partnership, Brenda had another important adventure that influences her life and work. "My first job out of college was teaching weed science at Cal Poly San Luis Obispo. I found myself teaching farm kids who had been working on the farm for most of their life, I felt like I needed the actual experience of farming. It was also a time when the Community Supported Agriculture movement was starting; I was so interested in small scale farming where I could grow so many different crops in a small area and direct market them. So, between my parent's place and my own we started a small farm. On our 10 acre Nevada farm, Smith & Smith Farms, we grew more than 40 different types of fruits and vegetables and more than 80 different flowers with at least 100 customers subscribing to weekly baskets of produce and flowers."
Like so many experiences in life, you don't know how one may set you up for what is next. For Brenda, managing a small farm provided her with some skills she needs with HDP. "Much like farming, we [HDP] have to operate on hard work and a little faith that we will have enough money for the next season. So far so good."
This hard work and faith have paid off as HDP has grown from a staff of one to a staff of seven. "It is great to work in a team setting, there is more creativity and we can better support our partners. The biggest thing to me is that we have enough of a critical mass that gives our partners and community confidence that a collaborative process can be successful and allows for different voices to be heard. I love a win-win."  
"For HDP, I hope the future brings a community that really understands that we have Harney County's back and that we can be helpful during the inevitable highs and lows that come with rural living. I hope that we have an organization that people want to be a part of and work for the betterment of an already great place. For Harney County, I hope that it never loses what makes it real, authentic and special—we can be willing to change with the times but keep what rural living is all about."
"I take great comfort living in Harney County. Living in Harney County just makes me feel good, it is the most beautiful place I have ever lived. I also have a huge debt of gratitude to Harney County, my son had an amazing high school experience: teachers taught him, coaches coached him, business owners offered him jobs, friends friended him (and me) and when it came to go to college, the generosity through scholarships were incredible. To me this is the embodiment of Harney County and I want to be part of that generous, can-do spirit of the community."