Teresa Wicks, Eastern Oregon Field Coordinator with Audubon Society of Portland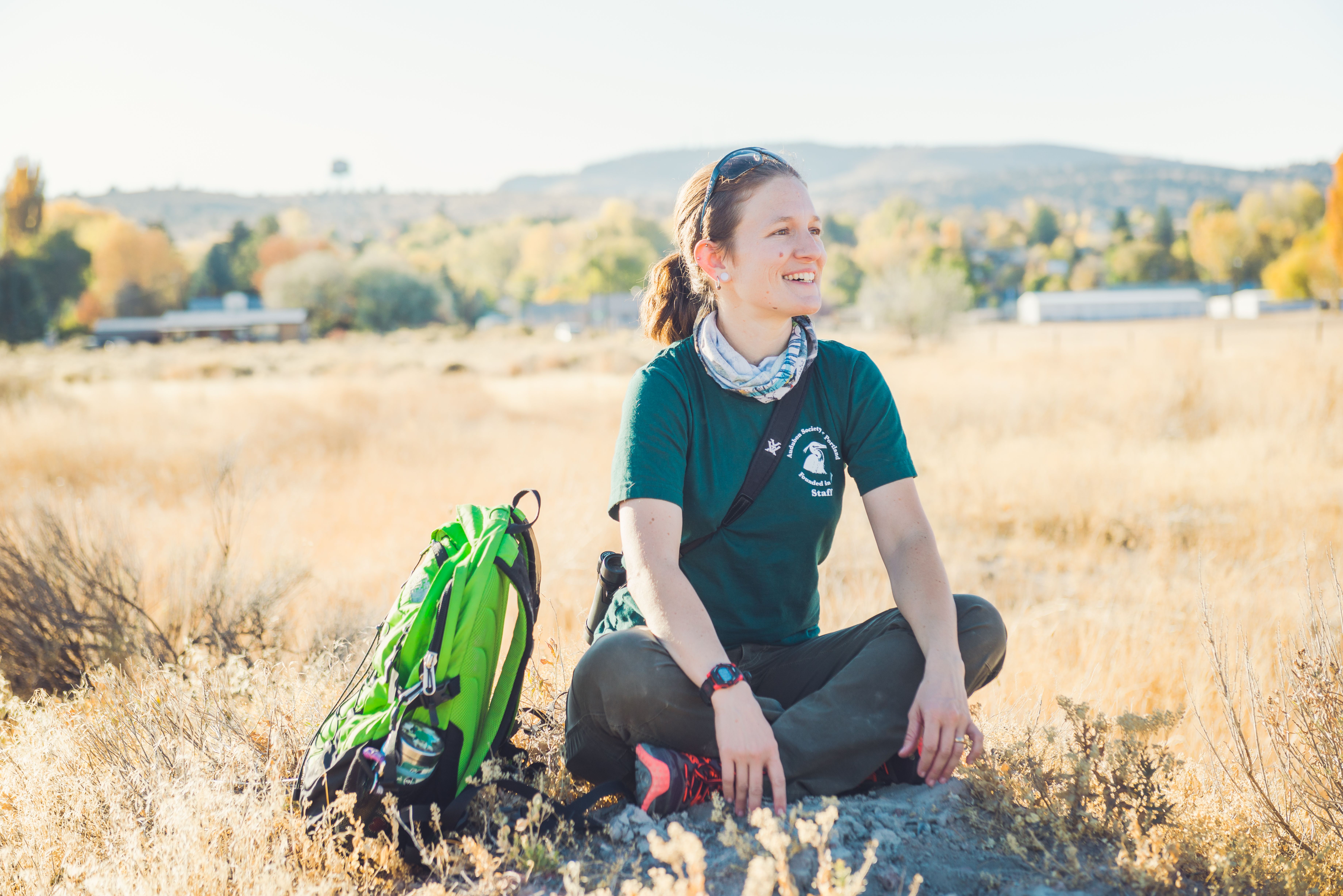 One of the interesting things about Teresa's position is that she works for Audubon Portland, but she lives and works in the Harney Basin. This is thanks in part to a grant from the Oregon Watershed Enhancement Board Focused Investment Partnership. "I moved to Harney County at the end of April 2018 and lived at the Malheur National Wildlife Refuge while conducting field surveys. I bought a house in Burns and moved to town in July. There are so many things to like about Burns: I live in a great neighborhood, where the neighbor kids often play outside with each other; I love that I can walk or bike everywhere and don't have to travel very far to access nature; and I feel inspired by local efforts to attract tourists and boost the economy, and by the efforts, such as HDP's Youth Initiative, to engage local youth."  
Audobon Society of Portland has Teresa in Harney County because the Harney Basin is extremely valuable for migrating and breeding birds. As lakes and wetland habitats decline in quantity and quality throughout the Pacific flyway, places like Malheur National Wildlife Refuge become increasingly important for migrating birds. By working with the Refuge to monitor bird populations, Teresa and others are able to observe trends in populations, monitor conservation efforts, and hopefully prevent severe population declines.
Living in Harney County and working with residents in town and with the farming and ranching communities is an important part of Teresa's work toward bridging the urban-rural divide. "It is definitely helpful for moving forward with water, habitat and wildlife conservation efforts, while also addressing social and economic interests."
As Teresa shared: "I hope that my work in Harney County will open up opportunities for folks to connect with nature, the Refuge, and the conservation work being done in the area. I think the work we're doing in Harney County will help inform the public and ideally instill a sense of pride for the efforts that diverse groups of people are making to preserve the ecological and socio-cultural aspects of the basin."
As a third-generation rural Oregonian, Teresa has a strong affinity for rural communities and places. She grew up in Southwestern Oregon during the timber crash. "I remember what that was like for my community, and for youth that I went to school with. I formed a strong conservation ethic by the age of 8 and have spent my life trying to find a balance between supporting rural communities and preserving space for wildlife. My dad is a reforestation contractor, and growing up, my mom, sisters, and I worked in the Fremont-Winema and Malheur National Forests with him fairly regularly. I fell in love with the open spaces of Eastern Oregon on those forays with my dad. So, for me, the work I'm doing in Harney County is the coalescing of all of these things. It allows me to live and work in Eastern Oregon, in an important conservation area for birds, while also supporting rural Oregonians. Being here, doing this work gives me hope."
---
**Teresa's work in the Harney Basin consists of: biological surveys, community outreach and policy work. The biological surveys are primarily associated with the Refuge's Comprehensive Conservation Plan (CCP). These surveys help provide information about bird populations and Refuge management efforts. Community outreach efforts to Harney County residents are fairly diverse, ranging from work parties on and off the Refuge, to programs and field trips with Tu-Wa-Kii Nobi (the Burns Paiute Tribe's youth program), bird walks at Refuge headquarters and in town, as well as some community science projects. Teresa's policy work focuses on the CCP, the Community-Based Water Planning Collaborative, and the Harney Basin Wetland Initiative, a High Desert Partnership collaborative.