Ron Whiting, Rancher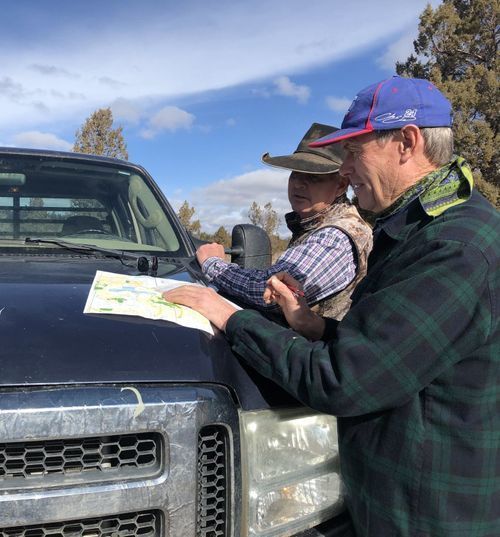 Ron Whiting was born in Harney County and has spent his life ranching and participating in the community. His great grandparents arrived in 1874 and raised horses. Ron's granddad shifted from raising horses to operating a cow/calf business and started Lone Pine Ranch which Ron and his wife Linda are operating today just east of Burns. "When I first got out of college [Oregon State University, B.S. with a major in Animal Science] I always felt that I had to put in all my time here [on the ranch] and didn't have time to participate in groups like this collaborative [Harney County Wildfire Collaborative], but over the years my attitude has changed. The reality of the situation is that if we ranchers are going to stay in business, we have to put in the time participating in collaborative type groups."
Ron participates in the Harney County Wildfire Collaborative, he's Chairman of the Lone Pine Rangeland Fire Protection Association and he was active in making the Greater Sage-Grouse Programmatic Candidate Conservation Agreement with Assurances for Private Rangelands in Harney County, Oregon happen.
"In 1990, we had a fire, the Whiting Springs fire, that started on U.S. Forest Service (USFS) land. This fire, along with the Pine Springs Basin fire that burned at the same time, produced a lot of heartburn toward the federal agencies among landowners concerning the way that the Bureau of Land Management (BLM) and the USFS fought wildfires. I could see the gross mismanagement of how the Whiting Springs fire was handled, and how the landowners were shut out. The fire started late one afternoon. The following morning, I saw what was going on, so I went home, got our own dozer, got it up there to our private property, and did what I could alone to battle the part of the fire that was on our property.  If I hadn't taken this action, considerably more and possibly all of our private property would have burnt. The next morning I saw a dead snag smoldering down in a canyon outside of the fire line, but trying to get anyone to pay attention or help was like talking to a brick wall. By noon, it blew up and the fire doubled in size and my family lost a considerable amount of timber as a result. At this time I didn't know about Rangeland Fire Protection Associations (RFPAs) and this was many years before the wildfire collaborative was formed. Enter the next century and there was a change of administration at BLM and the Malheur National Wildlife Refuge. They could see that things weren't working and we needed to do things differently. They started to work with us instead of dictating how things would be done." In 2013 Ron and three other landowners formed the Lone Pine RFPA and today it includes virtually all landowners within its boundaries. In 2014 the Harney County Wildfire Collaborative was formed. "It was kind of a rocky road to begin with, but the relationships between ranchers and the federal agencies are 180° different now than what they were a few years ago."
"In the 1990's about the only BLM personnel that I knew the names of were the District Manager and our Range Conservationist. Now there's quite a number of people I know on a first name basis and some of them are good friends of mine. It's just the fact that we can be comfortable to talk amongst ourselves and work things out together. When the occupation [Malheur National Wildlife Refuge occupation, 2016] was happening I was so afraid that it would spell the end of collaboration . . . but if anything, it solidified the resolve of the people of this county," shares Ron.
"Conservation and collaboration is nothing new for my family, I'm carrying on where my dad left off. My dad received the Harney County Grassman of the Year Award in 1963 and he was also named the Harney County Soil & Water Conservation District (HCSWCD) Cooperator of the Year in 1979; the first one to receive the award. The award I'm most proud of is the one HCSWCD gave me in recognition of land stewardship in 2021." The HCSWCD shared in a letter to Ron: "Whether it is a stream, sagebrush rangeland, forest stand or planning a fuel break, you are completely devoted to the task at hand. You are also an exceptional member of the community, who volunteers many hours to serve on multiple committees."
"The big thing I have learned in the last few years is the fact that the collaborative way is the way to do it, to really truly solve problems." shared Ron.
Ron is now at the point with his ranching operation that he's gradually shifting the business to work toward retiring. He still enjoys working on his property up in Lone Pine in the Malheur National Forest and has been pretty involved with Natural Resource Conservation Service projects which is his passion now. Ron and Linda are also enjoying doing some traveling, like visiting the many national parks they've been to in the last few years. "We like to get out and see how other people do things."