Rod Hoagland, Rancher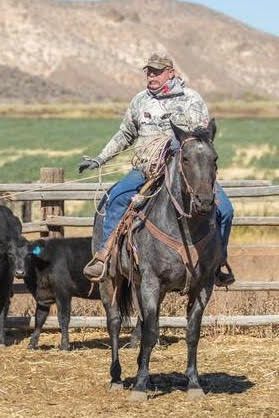 Rod Hoagland has called Harney County home since 1973. He and his wife Cindy make their life west of Fields where Rod can look out his window and see the top of Pueblo Mountain.
Rod has been actively involved with the Harney County Wildfire Collaborative (HCWC) for about three years. He estimates that he's been to at least 30 meetings and while he admits that collaboration is a slow process he's experienced a lot of good because of it. "We've made some big changes, a couple days ago I got called from Jacob Gear to go over to Hart Mountain to help out with that fire [Poker Fire]. These are the things that wouldn't have happened without the fire collaborative. I think one of the biggest assets to come out of the fire collaborative is Jacob Gear's position as Rangeland Fire Protection Association (RFPA) Liaison." 
RFPA's are private, nonprofit organizations established to help prevent and suppress fires on unprotected lands — those without federal or state jurisdiction. They represent a collaborative effort among local private landowners, the Bureau of Land Management and the Oregon Department of Forestry. Cooperative partnerships between the BLM and local and rural fire departments, including RFPAs, are crucial to remote wildfire response. Jacob Gear as RFPA Liaison helps coordinate RFPAs help when wildland fires do occur. The Poker Fire is a great example of this coordination. At least three RFPA's responded to Jacob's request for help.
Through the HCWC Rod also provided his perspective as a rancher with projects like the Pueblo Mountain Pilot Project which recently began with prescribed burning in late September. "Our fundamental reason for starting the fire collaborative thing was we had three or four megafires in this country and we wanted to stop that process, figure out a way to slow these fires down and make them a little smaller. This area that we picked out in the Pueblos was really remote and access was really tough." 
The National Environmental Policy Act approved Pueblo Mountain Pilot Project, focuses on preventing a megafire by creating a vegetated fuel break along a road corridor between Oregon End Table and Hawks Valley. This fuel break creates a space where firefighters can more safely operate and reduce the risks of a fire spreading northeast into the Pueblo Mountains."It's going to make a green belt; that was our primary objective to build some type of fire break so that if we have a megafire, we could have some place to fight [the fire from]. 
Needless to say Rod keeps busy. When he isn't at HCWC meetings providing his perspective for megafire prevention he's caring for his horses and cattle. You may have seen some of his horses in action at the Harney County Fair. And, if a fire like the Poker Fire erupts and he gets a call from Jacob Gear he hops in the fire truck to help: "90% of the time when I leave here I've got a young guy that comes with me, I drive the truck and he does the squirtin'."