Jeff Rose, Bureau of Land Management District Manager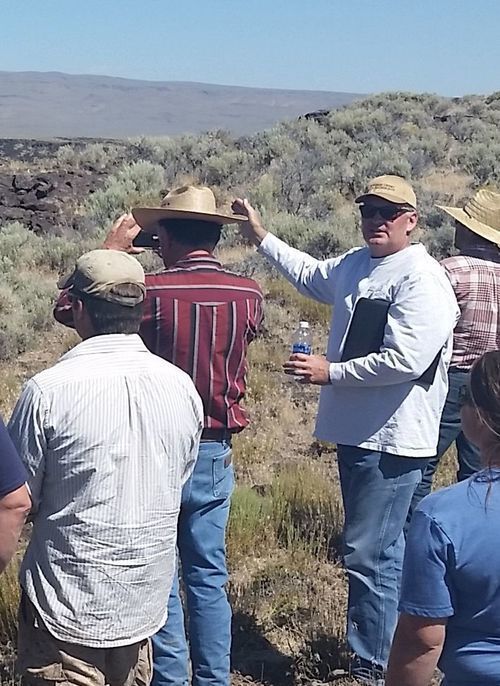 It was a winding journey that brought Jeff Rose to his work with the Bureau of Land Management (BLM). "It was a long path to Burns that took me from Connecticut through South Dakota to Oregon. I have a BA in Biology from Yankton College, Yankton South Dakota and a MS in Rangeland Resources from Oregon State University. I moved our small family to Harney County in 1988 to work for the Eastern Oregon Agricultural Research Center (EOARC) as a Research Technician. I spent 11 years at EOARC learning and working on a variety of research projects from animal nutrition to plant ecology and physiology. That experience prepared for my first job with the BLM as the Fire Ecologist for the Burns District BLM. I was hired as the District Manager in 2016."
As District Manager Jeff oversees the Burns office and management of the lands within the district. (3.36 million acres in Southeast Oregon.) "The BLM manages a number of resources and uses on public lands that include, range, wildlife, recreation, wild horses, forestry, geology and mining, and cultural resources. From the time I arrive at the office each day I need to be ready to discuss topics related to any of the major program areas and how the actions we take affect local, regional and national interests."
Collaboration is an important aspect of Jeff's work. "I enjoy working with different people to find solutions to resources management issues. The [collaborative] process helps the BLM understand the values and needs of a wide variety of people. It also provides the BLM with an opportunity to connect with a diverse group of people with differing viewpoints."
The BLM was one of the original members of the Harney County Wildfire Collaborative (HCWC) which formed in 2014 and Jeff was instrumental in it being established along with partners from Rangeland Fire Protection Associations, other federal, state and county agency employees, tribal members, conservationists, scientists and ranchers. During this time large catastrophic fires continued to pose a threat in southeast Oregon generating national attention. In 2012 the Miller Homestead fire burned more than 160,000 acres, the Long Draw Fire burned more than 550,000 acres and the Holloway Fire burned almost 250,000 acres in Oregon and Nevada. In 2014 the Buzzard Complex fire burned about 400,000 acres. 
For those talking about fire the need was recognized for a different type of conversation. "The wildfire collaborative is providing a forum to discuss possible causes and potential solutions to this problem. Through collaboration we have already improved the working relationship between the BLM and the Rangeland Fire Protection Associations, helped to establish a better fire detection system and implemented a fuel break project in a Wilderness Study Area in southern Harney County."
"HCWC allows the BLM to hear and discuss the values and opinions of a number of different people and groups in a single setting. The hope is that the discussion leads to a shared understanding of the issues. We aren't necessarily looking for total agreement on any one issue, but we are working to understand the opinion of different people and groups."
When not working and collaborating Jeff and his wife Denise Rose keep busy with house and yard projects, visits with children and grandchildren and travel with friends. "I seem to be drawn to warmer climates lately, winter in Harney County can seem long at times."