James Campbell, retired Range Conservationist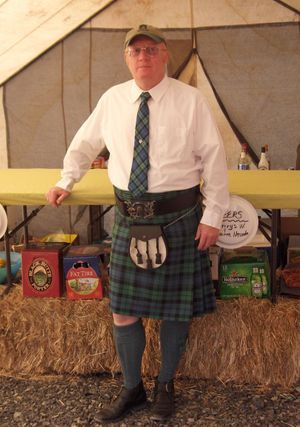 As a biology major at the University of Nevada in Reno James had plans to enlist in the Army upon graduation but the Army didn't like the outcome of eye exam so plans changed and thanks to some ag students and influential professors he found another path as a Range Conservationist with the Forest Service. "After a summer job building fences on the Payette National Forest in Idaho and a summer on the Humboldt National Forest doing range inventory and analysis, I started my professional career on the Humboldt National Forest in Ely, NV in 1977. The district was over a million acres and the entire staff consisted of a District Ranger, his assistant, me, a shared secretary with the neighboring ranger district, and a few summer temporaries. In 1979 I transferred to the Snow Mountain Ranger District of the Ochoco in Burns. I had never practiced range management in a real forest with real trees (timber) and a staff of about 45 other people. I had never seen a timber sale in progress or it's final result. I had not experienced working with all of the ologists, engineers, and fire people whose only job was fire management. It was quite a learning curve. Working closely with all these other specialists was just really exciting and I got to learn about silviculture, wildlife biology, archaeology, soils, hydrology, fisheries, and wildlife biology."
After a couple decades as a busy range con, James found himself filing a grievance with his District Ranger and won. That effort got the attention of the union and he began working as the ranger district steward. "I rose to a national leadership position not by being effective at winning grievances, EEO complaints, or arguments before the Federal Labor Relations Administration. I got there by collaborating. I was only interested in arriving at a mutual agreement on measures to resolve a conflict. Once management realized they could work with me in that manner, we had a lot of success." As a result, James rose to a national position and credits his abilities in the role due to skills he developed as a range con. "My success was a direct result of the skills I developed as a range con. Not skills in plant identification or how to read a brand on a running cow, but skills on how to work with people with differing ideas, needs, and interests."
A few years ago James began going to Harney County Restoration Collaborative meetings because there was a "big bru ha ha" over a proposal to close some forest roads. "As a chronologically challenged person, losing a lot of roads would really limit my ability to enjoy the forest. When I experienced my first collaborative meeting, I could see this group was much more than talking about roads. They were dealing with a lot of things I knew something about, cared about, and they were doing it with methods in which I was accustomed and comfortable. I've been attending and contributing ever since."
The Harney County Restoration Collaborative was convened in 2008, and is finding common ground solutions to improve the declining state of sustainability on the Southern Malheur National Forest that includes: creating fire tolerant and an ecologically diverse forest, increasing economic capacity by supporting new and emerging markets, and improving the ability to restore forest on a landscape scale. So needless to say the partners within this collaborative are watching the fire season closely and what has happened to the west side of Oregon plus California and Washington. "It was so preventable. It is my hope that we can all now move to a place where agencies, conservationists and citizens can work together and get on with the work to rehabilitate our forests."
In addition to volunteering with HCRC James has myriad interests . . . "I  support my lovely bride in her craft pursuits and her City of Burns volunteer firefighter activity. I'm on the Board of Directors and finance committee of the Harney County Senior and Community Service Center. I'm on the Harney County Weed Board. I'm an alfalfa and ground squirrel producer. I maintain my state herbicide applicator license. I still enjoy noxious weed treatment and helping others with their efforts. I enjoy watching British murder mysteries and comedies on public broadcasting. I enjoy quality Scotch whisky. I help brew quality craft beer at a local restaurant-brewery about one day a week. I have a border collie who thinks I walk on water, we spend a lot of quality time together. I like to watch birds, we plant bird and pollinator friendly plants at our place and we enjoy feeding and viewing the wee winged buggers year round. My real passion is motorcycle touring and camping. I've been riding since about age 14. I put 116,000 miles on my last road bike and I'm around 13,600 on my current BMW R1200RT.  I've been as far north as Alaska, south to Mexico, east to Nova Scotia, west to the big blue Pacific. A typical trip is four to 14 days and I'll ride between 400 and 800 miles a day. I like to attend BMW camp out events. A 'normal' year is between 5 and 8,000 miles. With Covid 19, I've ridden about 650 miles. I'm not a happy camper."