Esther Lev, Wetlands Consultant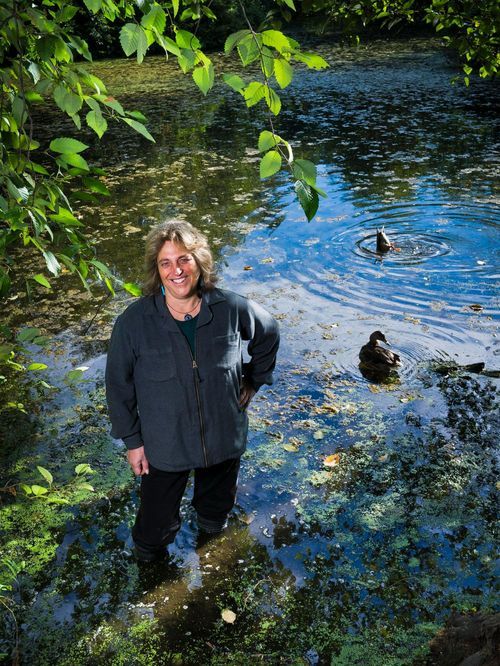 The Harney Basin Wetlands Collaborative is made up of a community of interesting people and Esther Lev is one of them. With roots in Cleveland, Ohio Esther has had adventures all around the world and with every adventure there's a central theme: "It's really been about developing relationships with the place, the birds, the wildlife, the plants, water and the people."
Esther's wanderlust started early as a teenager when she would do solo trips to visit older sisters and other family members. Then during her college years at Evergreen State College, she found adventures as she guided her own education and acted on opportunities. One of those adventures was her first exposure to Harney County through a professor who for him, Malheur was one of his favorite places. Esther also spent time in Alaska studying the ecology of the Alaska Peninsula and after college she spent a few months studying grizzlies in Yellowstone and the Grand Tetons.
From there it was down to Baja, Mexico and the Sea of Cortez to help a friend with his PhD project comparing the nesting success of six species of songbirds on an island in the Sea of Cortez to nesting on the Baja Peninsula. Then, thanks to lots of practice making tortillas and finally making a pretty darn good one, Esther made a friend who appreciated her new tortilla making prowess and she went to work for her leading kayak trips. Esther led kayak trips in the Sea of Cortez in winter and spring and studied crested Cormorants at the Apostle Islands National Lakeshore on Lake Superior in summer and fall.
Then one day Esther got an offer to lead elder hostel programs in India and Nepal. For the next three years, she made 16 trips and got involved in several projects in the Himalayas. A stint as a naturalist on a natural history cruise ship in Alaska took Esther to trips and involvement in projects in Indonesia and Thailand. Esther's international life shifted from Latin America to Asia.  "Each of these opportunities introduced me to places, landscapes, the ecology, natural history and the indigenous cultures of those places. I feel so grateful and honored for the openness, warmth and knowledge that each of the places and people have offered to me. From intermittent international travel, Esther's life returned to Portland Oregon and an interest in conserving wetlands and streams in Oregon. This led to the creation of the Urban Streams Council and Crew Restoring Urban Environments which became programs of The Wetlands Conservancy (TWC).  Esther's project work at TWC evolved into a temporary executive director role and the next thing you know it was more than 20 years.
When it comes to the Harney Basin Wetlands Initiative, it was Chad Karges that invited Esther to get involved. "It started with the Malheur National Wildlife Refuge Comprehensive Plan, we had a couple meetings and Chad had gone out of his way to meet with people and develop relationships." He invited Esther to a meeting with several ranchers to talk about flood irrigation and explore common interests, love of the place and vision to work together. "It was Chad's forward thinking; how can I bring people together in small groups and conversations to find common ground rather than starting with differences that opened the door to some deep friendships and project opportunities."
Esther has been working together with the Malheur National Wildlife Refuge Comprehensive Plan and Harney Basin Wetlands Initiative collaboratives since their inceptions. "I love the place [Harney County], it's a magical place. Like my experiences overseas, I have been grateful at the openness of the community. Together we have learned so much and evolved together. We have jointly tested assumptions and on the ground projects, continually refining our goals and desired outcomes. The collaborative piece takes a lot of time, some days it is fun and satisfying while other times frustrating and trying. But the process is working, I am continually in awe and impressed at the number of people who have stayed involved and the new people who have joined the effort. So, I am hopeful and think we're going to come up with long-term, ever changing and evolving solutions to conserve a place and community we collectively love. If you want to do things that go on in the future, it's really about gaining understanding of nature and people, defining visions and actions, but always being adaptable that things might change again, which is rule one in living in wetlands in Oregon High Desert."
Esther is now retired from The Wetlands Conservancy but she's continuing to work with Harney County partners to maintain wet meadow habitat for both the birds and Harney County landowners who rely on flood irrigation.