Daniel and Misti Porter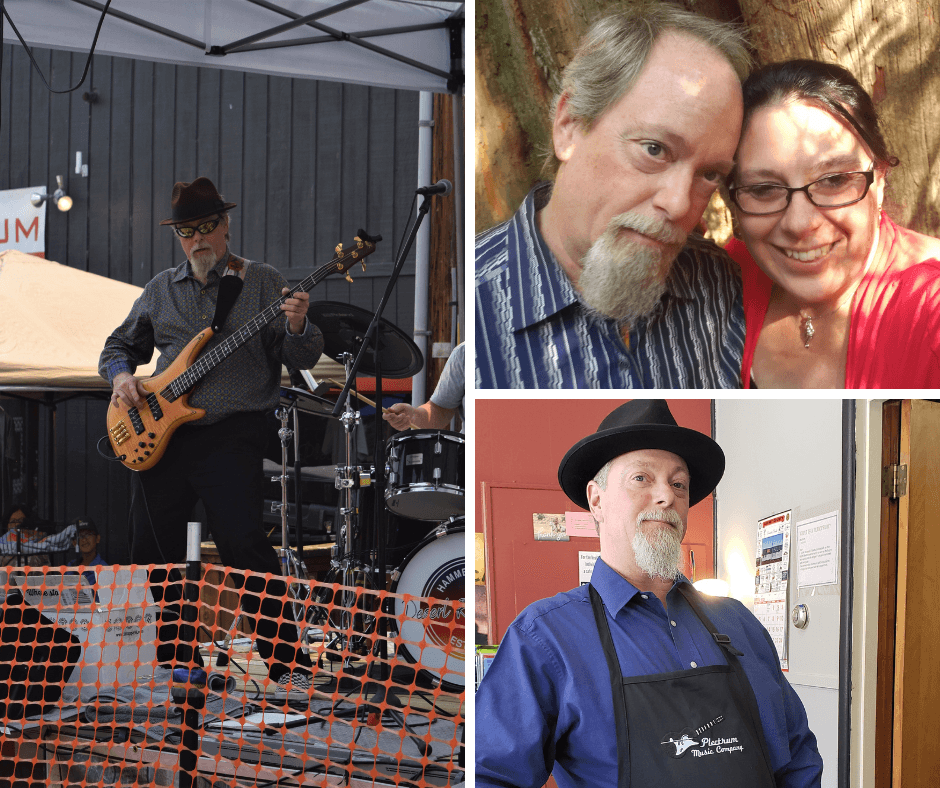 It's been said that every small business in rural communities, like those you find in Harney County, are essential businesses and we can put Dan & Misti Porter's small businesses Plectrum Music and Quriosity Art in that category. Plectrum Music Company is a guitar retail store specializing in stringed instruments, a luthier service, and what Dan calls "musician's commodities" like picks, strings, and straps. "We opened in December of 2020, directly in the midst of the COVID-19 pandemic. It was not a difficult choice to make because I knew that it could be a success with everyone at home needing something to do, a new hobby, or even supplies for the instruments they already had", shared Dan. Quriosity Art is Misti's brand for her unique artworks that incorporate 3D elements on flat canvases.
Dan came to Harney County from Boise in 2013 while Misti grew up in Burns on a ranch south of town on McCanna Road. Dan and Misti met at a local poker game and what started as a friendship, turned into a love story.  "I'm fourth generation Harney County and while I tried to leave, home called me back. But while away, my travels gave me insights into what Burns was missing in ways of arts, music and theater and when Dan had the idea for the music store, I was excited to help him on this venture." 
As Dan shares: "It was here that I met Howie Roozeboom and joined the Desert Roze Band in 2018. Desert Roze Band brought me out of retirement and triggered my love of music again. I've been a musician for thirty-five years playing bass guitar in several bands and performing on hundreds of stages for audiences sized well into the tens of thousands. I've also had a career as a professional DJ and experience in the backstage production of music. I worked at Rock the Mountain music festival in the Boise area that hosted forty plus bands on two stages over the course of two days. Rock the Mountain inspired Plectrum Music Company's own Beer and Brats Music Festival, which I hope to make an annual event."
"Owning a business in a small community is beneficial in that we know many of the business owners and we all try to help each other out; the small community comes together to create a friendly environment and a system of support and encouragement."
Like so many in Harney County, having one business or one place of employment isn't enough. That's true for Dan and Misti, they are very involved in the community. Misti has been involved for many years, especially when her kids were little. She coached t-ball, led Girl Scouts, and volunteered at the local library. Upon returning home from a four year stint in Klamath Falls, Misti is looking to expand the arts and culture district in Burns, Hines, and throughout Harney County. 
Dan and Misti chair the Community Revitalization Team's Small Business Committee as they wanted to reach out to other businesses and get to know them better. Dan is also the Treasurer on the Chamber of Commerce Board and as shared previously he planned and made happen the Beer and Brats Music Festival. Dan and Misti have also gotten involved with the BizHarney Opportunity Collaborative providing essential voices as small business owners. "We feel that BizHarney is a great fit for us because they work toward the same goals we do — to unite the community and businesses within Harney County." 
Dan & Misti's hopes for entrepreneurism and small business in Harney County? "100% success and that they flourish. If an individual can make a living doing what they love, whether it's reclaiming the lumber of an old house and turning it into furniture, using old beams from the mill and making something beautiful, selling unique clothing, or building a guitar — we wish them success. We also hope that new businesses are not afraid to ask for help from other owners around town, from the Small Business Committee or BizHarney, because we are all here to support each other. This community is wonderful in that businesses willingly assist each other in their endeavors. This is a wonderful sight to see, and could set a standard for other communities out there."
Dan and Misti do keep busy with their businesses and volunteer work. When they do have 'off' time they love a spontaneous trip to the coast or Boise or Bend for a day. During the winter months, Dan plays shows with the Desert Roze Band. Otherwise, the two of them are home, remodeling their home, lounging with the animals, Dan making music, and Misti making art.