Carlton Strough, SONEC Partner Biologist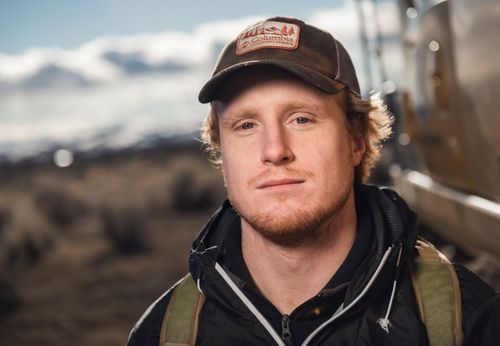 Working as a Southern Oregon/North Eastern California (SONEC) Partner Biologist, Carlton Strough is an affiliate with the Natural Resources Conservation Service (NRCS) and a new resident to Harney County having been in the area since late 2017. When Carlton isn't fly fishing, hunting and traveling across the country to watch a big game he spends his days helping landowners increase their water control and water-use efficiency. Read through this Q&A to learn about his work in Harney County with the NRCS and his participation with the Harney Basin Wetland Initiative.
Can you describe your work with the National Resources Conservation Service (NRCS)?
Carlton: My work with the NRCS truly varies by the season. For example, this time of year [late winter] I'm actively working with landowners to draft conservation plans that identify resource concerns and landowner objectives. During this time NRCS and Ducks Unlimited engineers are critical in providing perspective and advice when we are renovating or redesigning flood irrigation systems. Sometimes this means replacing dilapidated water control structures or completely redesigning a system to increase water control and surface [water] distribution. Ultimately, the constants in this work is to identify ways to increase water control and water-use efficiency. Once the conservation plans are created then the NRCS provides designs and other relevant details, so landowners can begin implementing their conservation plan after the irrigation season.
How does your work make a difference?
Carlton: This work matters because we are truly trying to keep the traditional ecosystem in place. One of the key mechanisms to doing this is by ensuring flood-irrigation continues. These [Harney Basin] wetland meadows are hot beds for migratory birds, but they are also essential in recharging aquifers. Converting away from traditional irrigation systems creates an imbalance of natural recharge vs excessive pumping. As a result, we're helping landowners reduce the labor demand in their current system while also increasing water control and surface distribution of the water they receive. This is especially prevalent in low water years because these renovated systems now have the capabilities to maximize water in low years. However, the benefits aren't entirely tied to the wildlife or natural processes; we are also helping landowners effectively distribute water that will increase the operations production of meadow hay forage.
Why do you do the work you do?
Carlton: When I first decided I wanted to work in the natural resource field I never knew where I wanted to go, or where it would take me. However, I always knew this field would give me the opportunity to make an impact, and that's one of the main reasons I chose to do this. No matter how small or large this impact may be it's still something I can take pride in. Therefore, this purpose gives me an extra incentive not to just complete a project, but to maximize the potential of a project. Also, it's always incredible to meet and work with people with a variety of experiences. The partners may have different backgrounds, but we all work for the same objective and that camaraderie makes this work that much better. Finally, I've always found it enjoyable to work with landowners because they have truly taught me just as much as anyone has. I always enjoy seeing the passion and enthusiasm so many landowners have for not only their operation, but for the county as a whole.
How did you find yourself involved with the Harney Basin Wetlands Collaborative? What do you think it accomplishes for Harney County?
Carlton: In all honesty, I unintentionally got involved with the HBWI. About a year and a half ago I was preparing to graduate from the University of Idaho, so I was scrambling to find a job post-graduation. My only parameters for job hunting was that I stay in the Northwest and I find a position where I can use my degree. As a result, I saw this position with NRCS and immediately applied for it. Fast-forward a year and a half and now I'm actively involved in this collaborative that is doing incredible projects across Harney County. There is still a lot of work to be done but having a role in [HBWI] has been incredible and has taught me skills I can use for the rest of my professional career.
How long have you lived in Burns? What do you enjoy about living in Burns?
Carlton: I've lived in Burns for about a year now and was brought here by this job opportunity. I grew up outside of Boise, ID and up to this point, spent my entire life somewhere in Idaho. Even though I've grown up in cities larger than Burns, I've always been a small-town soul, so acclimating to this area wasn't a problem. As an "outsider" it was comforting to know that there were so many great people around here that welcomed me into Harney County. Specifically, all the working partners and landowners have allowed this transition to flow seamlessly; in large part due to the Initiative creating a common objective among all parties.
What do you enjoy doing when you're not working? 
Carlton: When I'm not working I enjoy going hunting and fishing. Recently I've been trying to do more and more fly fishing just due to the proactive nature of it. I'm no good at it, but I just enjoy being out there having some fun. Although, I'm most familiar with hunting/fishing in Northern Idaho so it's taken me some time get out and find new places to go. In addition, a few buddies of mine have agreed to experience different sporting events across the country. It's always been a bucket list thing for us to travel around the U.S. seeing the many stadiums and atmospheres that college sports present. Fall 2018 we went up to Ann Arbor, Michigan to watch a football game with 110,000+ people in attendance and that experience in and of itself is something I'll always remember. 
Learn about the water management and fencing projects at LY Ranch that Carlton managed through NRCS with a Harney County ranching family. Behind this link you will land on the Harney Basin Wetlands Collaborative Resources page. Scroll down the resources for the article titled 'Harney County Rancher Caring For The Land.'