Bill Dragt, Supervisory Natural Resource Specialist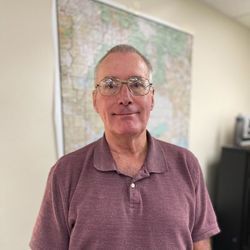 "Since 1991, I've worked for BLM." Bill Dragt is a Bureau of Land Management Supervisory Natural Resource Specialist and has worked in several locations during his 30 year BLM career; Cedarville, CA to Glenwood Springs, CO to Salt Lake City, UT to Reno, NV and finally Burns, OR where he supervises up to 8 resource specialists in range management as well as wildlife, fish biology, and geology. "Having worked in a number of BLM locations, it is my observation that Burns is a special place. While there are big differences, people in Harney County tend to be willing to talk to each other, often to the resolution of specific issues."
"I'm guessing this is a personality quirk, but every place I've worked, I've had a "project" or two. In Burns that project is grazing management to help manage invasive annual grasses. Put another way, fine fuels management. We need to be smart enough to figure out how to use livestock to at least manage invasive annual grasses. In the pursuit of that thought I've met many interesting, smart, and creative people all working towards control of invasive annual grasses and restoration of functioning sagebrush habitats. That is how I came to be part of the Harney County Wildfire Collaborative's (HCWC) Stinkingwater Project." (A habitat restoration and fire resilience project.)
When the HCWC started the Stinkingwater Project, Bill was "directed" to participate as a BLM medusahead targeted grazing project was on the east side of the Stinkingwater Project. "The HCWC provides an excellent forum for BLM to work with and get suggestions and ideas from a wide range of local and regional people and interests. It also provides BLM a forum to talk about what we are doing or planning relative to the goals of the HCWC. More generally and probably more importantly it is a forum outside of official BLM processes where we can talk to people about what they think about things including fires and land management."
BLM grazing regulations contain this phrase: "after consultation, cooperation, and coordination . . . ", for Bill this means that collaboration is an integral part of BLM's land management mandate and policy. "Working with a person or group of people towards a common goal or target is among the most rewarding aspects of working for BLM."