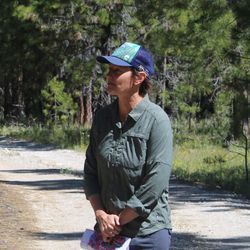 Pam Hardy
Board Member
Western Environmental Law Center
Voting board member since 2020
Pam Hardy is an attorney with the Western Environmental Law Center and an active volunteer with the Harney County Restoration Collaborative (HCRC). As a volunteer with HCRC Pam has a seat at a collaborative table as an active participant. She's seen collaboration work and believes the complex issues we face with natural resource management requires people working together.
Pam's passion for healthy land, water, fish and wildlife began in her childhood and evolved. She studied wildlife biology as an undergrad and started her career studying hummingbirds with The Nature Conservancy. She then found herself teaching outdoor school and loved the experience helping others. From there it was 10 years as an outdoor guide and then law school. Pam graduated from University of Oregon in 2006 and spent several years as a litigator on behalf of environmental organizations. Despite her time in the court room she always had a sweet spot for people working together and working through their differences through communication.
Pam's introduction to Harney County came while she was in college. She wrote a research paper about the Steens Mountain Cooperative Management and Protection Area and in 2004 she was appointed to a seat and remained in that position for 10 years.
In 2017 Pam joined the Western Environmental Law Center and in 2018 she began participating with the Harney County Restoration Collaborative. She stays involved because ". . . it works. People listen, they think about the various perspectives, and are willing to find middle ground where we can all agree on treatments."