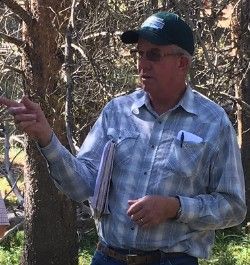 Jack Southworth
Contract Facilitator
Southworth Bros. Ranch Inc.
Jack was previously a High Desert Partnership board member and is currently a contract facilitator for the Harney County Forest Restoration Collaborative. Since 2010 this southern Malheur Forest collaborative has been responsible for successful restoration projects on more than 250,000 acres of forest lands thanks in part to the leadership of Jack.
Jack owns a ranch near Seneca, OR that was started by Jack's great grandfather in 1885. He is a member and current chairman of Country Natural Beef, a cooperative that focuses on raising beef in economically and environmentally sustainable ways. In 2016, Jack was honored with the Forest Service National External Range Management Award. Learn more about Jack and this honor.
May 24, 2023 Jack participated in an interview with Dave Miller for OPB's Think Out Loud podcast about Jack and his wife's Teresa holistic ranching practices. Great interview, listen here.