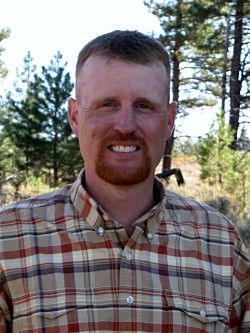 Dustin Johnson
Board Member
Oregon State University Cooperative Extension Service, Agriculture and Natural Resources Extension Agent
Voting board member since 2011
Dustin feels The Partnership pays close attention to what few others give much thought: the process that is used to address challenges facing our community.  He has found that the process to address issues is equally, if not more important, than the destination because it is what ensures opportunities for communities to engage. Dustin works for Oregon State University doing applied research and extension related to natural resources management. His work allows him to help groups identify relevant science and organize this information into a framework that will help everyone understand the nature of the problems being focused on and how to address them.
In addition, Dustin's involvement in the community provides him with a keen understanding of the challenges and opportunities in Harney County. Through his various involvements in both successful and unsuccessful planning efforts, he has noticed common elements, which continue to shape his perspective and the direction he provides as a board member. When Dustin isn't at a meeting or work, he loves watching, coaching and mentoring his kids in everything they do. He also enjoys anything outdoors including hunting, hiking, fishing, camping, and backpacking.