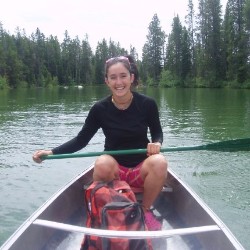 Melissa Speeg
Communications Coordinator since 2015
Melissa learned about the High Desert Partnership thought her husband, a Forest Service employee, who was participating in the Harney County Restoration Collaborative. Melissa was intrigued by the idea of bringing together people with very different backgrounds and opinions and creating positive change for the community. Her previous work as a part-time bartender in Harney County and for various land-management agencies, continues to provide her with insight into why people are resistant to The Partnership's work and allows her to find creative ways of communicating The Partnership's story.
Melissa was also a challenge course facilitator for 4 years. Through facilitation she learned the importance of listening and gained a deep understanding of group dynamics. Melissa believes that The Partnership creates positive impact by encouraging local solutions and involvement and by fostering positive relationships between land agency employees and community members. Some of Melissa's favorite things to do are walking through the woods, eating berries, skiing, laughing and being silly with her toddler.