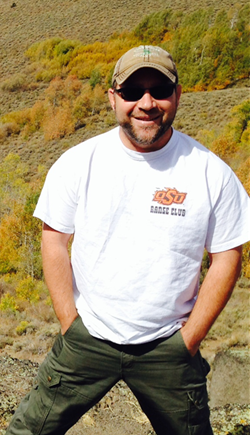 Jay Kerby
Board Member
The Nature Conservancy, Southeast Oregon Project Manager
Voting Board member since 2011
Jay Kerby grew up on southeastern Oregon ranches.  As a youth, any free time not devoted to school or working on the ranch was spent exploring sagebrush country. He built on that youthful interest in the natural world by obtaining a B.S. in Rangeland Resources from Oregon State University (2000) and a M.S. in Rangeland Ecology and Management from Oklahoma State University (2002). 
Jay worked as a faculty research associate at Oklahoma State (2003-2007), in partnership with The Nature Conservancy and U.S. Fish & Wildlife, on innovative research of sustainable ranching practices that simultaneously enhance wildlife habitat and biological diversity on North American grasslands. Following a 2-year stint as a carpenter, Jay rejoined the natural resources field in 2009 as Southeast Oregon Project Manager for The Nature Conservancy. He splits his time between guiding management and restoration of sagebrush-steppe nature preserves, conducting research with university and government ecologists on habitat restoration and collaborating with private and public land managers to improve habitat conditions for benefit and conservation of nature and human communities in Oregon's High Desert.