Ben Cate, High Desert Partnership Ecological Coordinator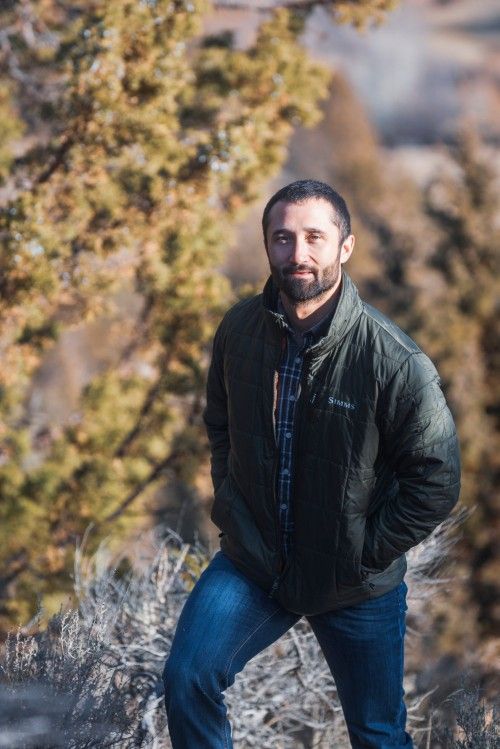 Ben Cate is homegrown Harney County. A Highlander, he's a 2005 graduate of Burns High School and after graduating from Oregon State University and starting his career, Ben returned to Burns in 2014 to begin work as the Wildlife Program Manager for the Burns Paiute Tribe.
Before returning to Burns, Ben worked with Oregon Department of Fish & Wildlife (ODFW) gaining experience in the field of wildlife biology and management by working various jobs around the state. "I first experienced the benefits of partnering multiple agencies in a combined effort while working for ODFW in Roseburg, OR. There is a strong partnership between the local ODFW wildlife department and the United States Forest Service (USFS) Diamond Lake Ranger District. The two entities combine efforts to accomplish wildlife habitat improvement projects on USFS land. It was evident that by utilizing the strengths, skills, and resources of each agency we were able to accomplish more than the individual agencies ever could have on their own."
This is where, early in his career Ben cut his teeth with collaboration. As Wildlife Program Manager for the Burns Paiute Tribe he dug further into collaboration as he began attending two of the collaborative efforts that High Desert Partnership supports, the Harney Basin Wetland Collaborative and Harney County Restoration Collaborative, as a technical representative for the Tribe's Natural Resources Department. "It was here that I first learned about true collaboration and the additional resources and opportunities that become available to partnerships when the Harney Basin Wetlands Initiative began working on the Oregon Watershed Enhancement Board's Focused Investment Partnership application."
This effort peaked Ben's interest and fast forward a few years to early 2017 and Ben took the opportunity to become the Aquatic Life Coordinator with High Desert Partnership. "The Harney Basin Wetlands Initiative was successful in securing a Focused Investment Partnership Implementation grant, and things were happening on the ground. I thought that the opportunity to work with a variety of different agencies doing a combination of field work and coordination was very appealing . . ."
As collaborative efforts continue to impact work happening on the ground, in 2018 Ben transitioned to the role of High Desert Partnership's Ecological Coordinator coordinating the four ecological collaborative initiatives that HDP supports (Harney County Restoration Collaborative, Harney Basin Wetland Collaborative, Harney County Wildfire Collaborative and the Malheur National Wildlife Refuge Comprehensive Conservation Plan). Ben keeps busy with all aspects of coordinating four collaboratives from what it takes to make meetings happen to conducting biological surveys, hiring & training seasonal staff for collaborative project work, assisting with grant management and driving the occasional airboat on Malheur Lake. Oh, and he spends lots of time talking with people!
When Ben isn't helping people work toward a collaborative consensus you can likely find him outside hunting, fishing, snowboarding, camping, gardening and keeping a collection of bonsai trees alive.
Ben's also a musician who plays the guitar and piano and is the assistant wrestling coach for Burns High School. Ben himself was a state champion and went on to collegiate level wrestling at Oregon State. "I feel a great sense of accomplishment helping young athletes achieve their goals and learn valuable life lessons like work ethic, self-discipline, sportsmanship, perseverance and humility."
As to growing up in Harney County and returning to Burns, Ben is very connected to the local community. He's connected to the landscapes and places that remind him of his childhood, as well as connected to the people that call Harney County home. He is hard pressed to visit the local grocery store without running into multiple friends.
Ben is among those who see change as inevitable and has been around the community long enough to have seen some major changes occur; changes in the availability of living wage jobs and the available workforce, changes in the opportunities afforded to our youth and changes to the morale of the county's citizens. Ben hopes to be a catalyst for positive change for the betterment of all Harney County citizens and as a resident has a vested interest in seeing this community thrive.