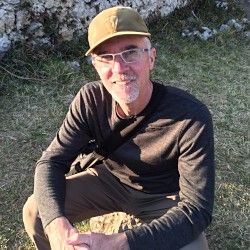 Bruce Taylor
Board Member
Intermountain West Joint Venture
Voting board member since 2008
When Bruce joined the High Desert Partnership board in 2008, he was intrigued by the idea of developing a different model for how conservation could be done more effectively in eastern Oregon. Since then, The Partnership has pioneered a new model for collaborative approaches to contentious natural resource issues. Bruce brings over 25 years of experience in building and facilitating partnerships for voluntary, cooperative habitat conservation across Oregon. He also has extensive experience with communications, policy and politics at the local, state and federal levels. As a result, Bruce is the primary link to the broader conservation community for The Partnership, as well as to potential partners, funders, stakeholders and decision-makers outside Harney County.

Bruce got his introduction to Harney County during his honeymoon in French Glen, which he spent wandering around the wildlife refuge and Steens Mountain. It is one of his favorite places both for its natural wonders and because of the people he has become good friends with over the years. In his spare time Bruce enjoys hiking, backpacking, wandering around nice big cities, listening to live jazz, and viewing great modern art.