If you want to be in the know about what's going on at our organization, you've come to the right place.
Era of Megafires Presentation in Burns
Posted by High Desert Partnership on 04/05/2017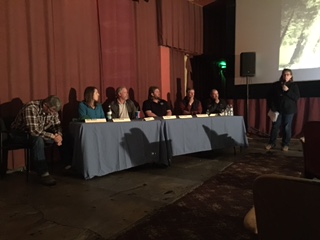 Harney County Restoration Collaborative and High Desert Partnership hosted Era of Megafires at the Burns Historic Theatre on April 3rd. The presentation was hosted by Dr. Paul Hessburg, a research ecologist with Forest Service Research and Development who has conducted fire and landscape ecology research for more than 27 years. Era of Megafires is a multi-media presentation on fire and what we can do to make it work for us. The presentation was followed by a panel discussion with local fire managers and Harney County Restoration Collaborative partners. The panel offered the opportunity for community members to ask questions regarding local fire concerns. A huge thank you to Tiny Peterson, owner of Historic Desert Theater, for donating the use of the theatre for this presentation. You can see pictures from the event in our photo gallery.