Fair in the Field: OPEN TO THE PUBLIC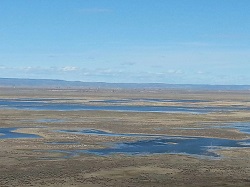 Friday is open to the general public and we encourage everyone to attend! Explore what is happening in Harney County with our partners from the Harney Basin Wetlands Initiative and Harney County Restoration Collaborative. Spend the afternoon doing hands on activities with partners to learn about different aspects of our local ecosystems. Topics that will be examined include: water systems, irrigation systems, mule deer migration, present and past uses of plants, sage grouse habitat, flood meadows and grazing, carp, and waterfowl. We hope to see you there!
The Eastern Oregon Agriculture Research Station is located outside of Burns, OR on the way to the Malheur National Wildlife Refuge (67826 Highway 205 Burns, OR 97720).